Army Airforce Museum Guadalajara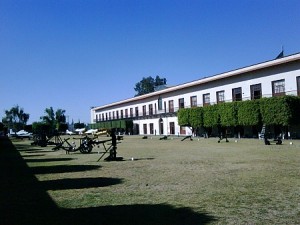 Its original construction is in adobe without any ormanents, it was remodeled to in the 1980s, to what it is today a beautyful fortress. This building was inaugurated by General Porfirio Diaz as President of Mexico in the year 1905.
On june 12 1999 this museum opened its dors to present a historic presentation of warfare since the foundation of modern mexico year 1340s to today on the first and second floor. It displays interesting airplanes and other tanks in the back garden.
Army and Air Force Museum
Opens on Tuesday to Saturday from 10:00 a.m. to 6:00 p.m. Sunday from 10:00 a.m. to 4:00 p.m.
It is part of the program for opening cultural precincts: located where the facilities of the old «Cuartel Colorado» (The red Headquarters of the army) used to be in Guadalajara. The museum gives us a historical description of our Mexican flag, since the Pre Hispanic era, going through the colonial times, and the Mexican Revolution, up to this time, the Mexican Air Force thanks to its wide cultural wealth, gives, us a background of how it was created, how it developed and its participation in air-ground missions, being widely recognized in missions on behalf of the population.
It opens from Tuesday – Saturday 10:00 – 18:00 HRS, and half a day on Sunday. Contact us for more details.
#600 Gómez Farías St., General Real Colonia. Guadalajara
Telephone
(01 33) 3618-3974
---
These activities might be of your interest:

---
---
☎ 33 3677 7602